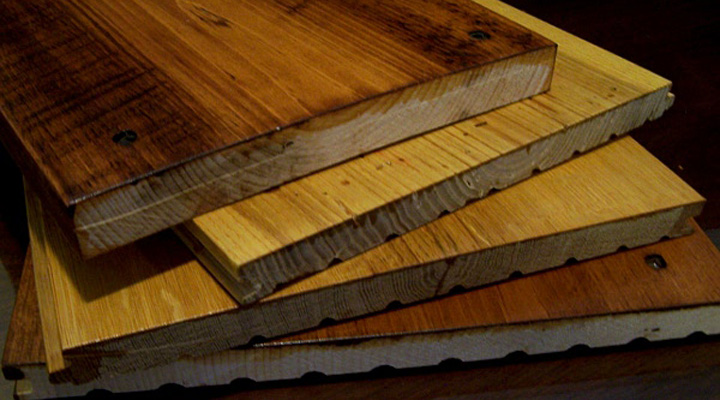 Wide plank flooring. It's gorgeous and incredibly in vogue. But it's also kinda tricky. Don't worry; we're not trying to convince you not to do it. We're just making you are well aware of the potential hurdles so you can avoid them and end up with the amazing wide plank flooring you desire! It starts with considering the natural limitations of various lumber species (see Part 1) and then properly drying and milling wide plank boards (see Part 2). But when it comes to ensuring that your wide plank flooring will last over the long haul, proper installation is imperative.
Acclimatization & Gaps for Wide Plank Flooring
While we're not talking about exterior decking here, gaps are still an important part of the equation. Like decking, wide plank flooring boards will need time to adjust to the moisture levels of the room in which they'll be installed. They'll also undergo a measure of movement throughout the year, as moisture levels shift. Another consideration is the type of subfloor you're using; that distinction will go a long way toward determining moisture control as well as the fastening method that would work best.
Alternative Fastening Methods for Wide Plank Flooring
Typically, using tongue and groove joinery allows for a greater degree of movement across the width of a board, provided you also include an expansion gap between boards. This will probably necessitate a conversation with your client, in order to make him or her aware that a gap will be absolutely necessary in order to allow for wood movement throughout the year as moisture levels shift. Choose a T&G pattern that allows for an undercut shoulder on the tongue side, allowing for the plank to be toe-nailed to your chosen subfloor.
If your client prefers not to see any gaps, you can opt for a floating floor, which allows the entire floor to expand and contract as a whole. Of course, you'll still need an expansion gap, but this time it will be at the edge of the room and can be covered with shoe molding. Because not all boards move identically, buckling and unevenness can still occur.
Alleviating Movement for Wide Plank Flooring
While no one can completely halt wood from moving, there is one way to greatly reduce movement: control moisture levels. You can do this by installing a humidity control system designed specifically for the room in which your wide plank flooring will be installed. Yes, it's expensive, but it allows you to protect your client's investment in premium hardwood flooring. These systems are quite effective at regulating moisture levels and, as a result, eliminating almost all wood movement.
Wide plank flooring can be seen in many of today's most expensive and trend-setting homes and commercial environments. As its popularity continues to grow, we hope you'll consider jumping on board, and that you'll remember these recommendations as you do so.