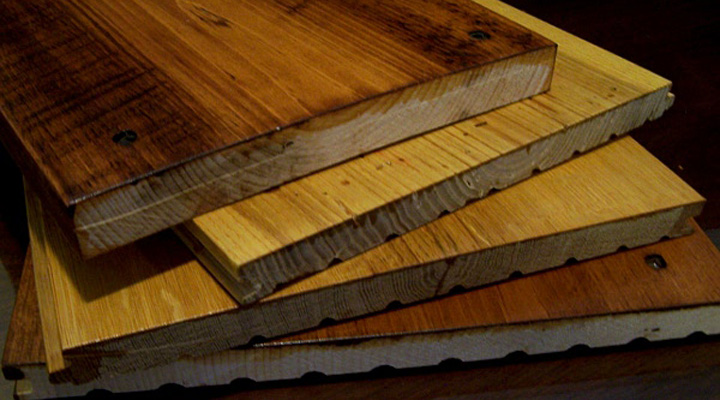 Wide plank flooring can definitely provide a striking look for high-end residential and commercial projects! In Part 1, we discussed how wide-plank flooring (especially the kind that's made from extra-wide planks in widths over 8 inches) presents some unique challenges. From species limitations to color-matching challenges and an increased need for careful drying, you definitely need to exercise a little more foresight and TLC than usual, when working with extra-wide planks. Now we're going to turn our attention to how to install wide plank flooring in a way that gives them the greatest opportunity for success.
Acclimatization Period
Prior to installation, it's extremely important to secure your lumber from a knowledgeable supplier that understands the unique needs of wide plank flooring. Once your lumber arrives at your job site, you need to make sure it is allowed an acclimatization period during which it can come into an equilibrium with the room in which it will be used. How long this period should be will depend on several factors, such as the difference between the moisture levels where your supplier is located and your job site and the material used for the sub floor.
Flooring Installation Options
Typically, flooring will use ship lap or tongue-and-groove joinery; however, wide plank flooring performs better with tongue and groove, because the groove allows the adjacent board's edge to be essentially trapped, preventing it from lifting. (The only way to fully significantly reduce the potential for movement-related issues is to reduce the width of the boards.) Tongue-and-groove joinery allows movement to occur across the width of a board, provided an appropriate expansion gap is allowed. Depending on the time of year, your gap may open or close up, as moisture levels shift seasonally. Typical T&G patterns include an undercut shoulder, allowing the plank to be toe-nailed onto the sub floor, anchoring one side of the board. If a client desires to eliminate any gaps between boards, a floating floor allows the entire floor to expand and contract as a unit. Due to uneven movement from one board to another, though, unevenness and buckling can still occur with a floating floor.
Humidity Control
While you can't control the fact that wood will move in keeping with shifts in moisture levels of the air surrounding it, you can control the air. A humidity control system designed specifically for the room with wide-plank flooring is not an inexpensive solution; however, depending on the size of your room, it may be a reasonable method of protecting your investment. Used for laboratory environments requiring extremely controlled conditions, humidity control systems allow you to maintain constant moisture levels in the room, regardless of the shifts occurring outdoors.