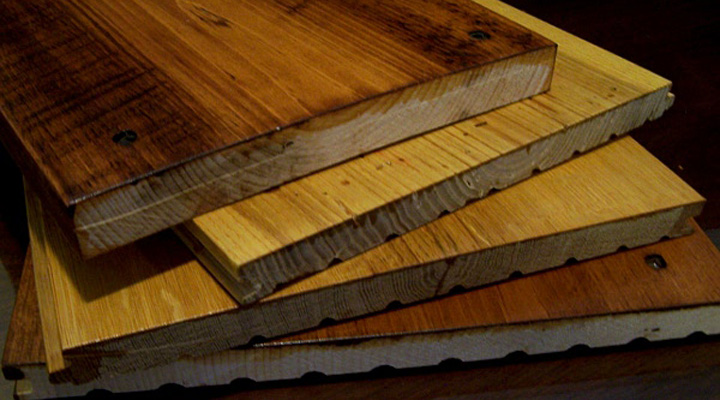 Wide plank flooring. It's definitely in vogue for high-end construction and remodeling. And it's gorgeous. But as attractive as wide plank flooring is, it's equally difficult to achieve: sourcing, milling, and accounting for movement issues all combine to make installing wide-plank flooring more difficult than you might think. By understanding the challenges that wide plank flooring often presents, you can avoid common pitfalls and increase your chances of meeting your goal: a happy customer.
How Wide Is Wide Plank Flooring?
While many consider only board widths 12 inches or greater to be "wide planks," from a contractor's perspective all boards wider than 4 inches should be considered "wide plank." Compared to "strip-style" flooring, installation of a wide-plank floor involves some extra challenges. When it comes to aesthetics, the width of your planks is relative to the room; the larger the room, the wider the planks should be in order to look right. It's all about proportions. With today's popularity of reclaimed wood and rustic flooring, the combination with wide planks provides the perfect opportunity: many wider planks are indeed unique character-grade boards.
What Difference Does Species Make?
The first thing you need to know is that once you start looking for flooring that's 8 to 12 inches wide or wider, you significantly limit your choice of species. Sure, almost any species produces boards over 12 inches wide, but relatively few produce enough of them for a large floor, never mind any attempts to match color and grain. Of course, true color matching is impossible when you're dealing with an organic product like lumber, but even approximate matching can be a challenge with wide-plank boards that are already in high demand and low supply. To offset that dilemma, you can either help prepare your client for a certain degree of inconsistency in appearance or use a finishing technique that helps blend the boards' coloring.
What Are Your Options?
Walnut flooring poses an especially difficult problem, due to both its popularity and its limited size. Walnut is also quite prone to knots and other "defects," making clear, wide boards particularly rare. While a wide-plank rustic Walnut floor might be more reasonable, another option would be to use shorter board lengths. A third option would be to consider an alternative species with similar coloring, such as Wenge. To achieve a look similar to Walnut, a fourth option would be to use a lighter colored species and then apply stain to achieve the chocolate-brown color of Walnut. Of course, the added cost and time needed will have to be figured in.
Once you've selected your species and determined how you will make up for any inconsistencies in appearance you're ready to consider milling and drying your wide plank boards. Check out Part 2.