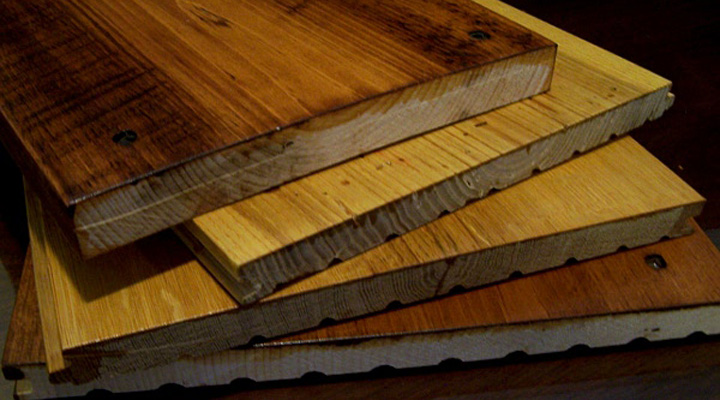 Wide plank flooring can be especially attractive – particularly in large, open areas. Commercial as well as residential applications are leaning more and more toward this trend, with many adding reclaimed or rustic flooring into the equation. Like many attractive flooring options, wide plank flooring comes with some challenges as well, starting with obtaining suitable planks and milling them as well as installing them in a way that ensures that wood movement does not lead to buckling or warping.
While wide planks can be defined as anything over 4 inches, many are opting for boards in excess of 12 inches wide. If you're leaning toward the extra-wide side of the spectrum, you'll especially want to take some extra steps toward designing and installing a premium wood floor that will look great now and stand the test of time.
Choosing Wood Species
Especially when you're looking at boards that are 8 inches wide and wider, you need to realize that wide plank flooring will limit you to certain species – assuming you do have a project budget, that is! Most species will yield some boards in the 12-inch-and-wider category, but especially with the quantity needed for a large flooring project, you will need boards from several trees. That scenario will create some added challenges, when it comes to matching color and grain. You'll definitely want to prepare yourself (and your client) for a level of inconsistency and plan accordingly with a finishing technique that allows the color of boards to blend together more cohesively.
Considering Unique Challenges
Walnut flooring provides some additional challenges, due to its natural limitations. Those limitations are so significant that they've led to downgrading by the NHLA. While the American Black Walnut is not a hearty tree and comes with plenty of defects, the chocolate brown tones of this unique lumber species combines with interesting grain patterns to make securing clear, wide planks especially challenging. One way to mitigate the inherent issues of Walnut is to use that species for more rustic flooring. A suitable alternative may be Wenge, which offers a similarly dark hue. Applying a stain is another possibility.
Whatever species you select for your wide plank flooring project, keep in mind that you'll probably need to consider shorter planks than you'd prefer in order to secure enough wide planks. Often, added work and cost will need to be part of the equation due to natural shortcomings of whatever species you select.
In addition to carefully selecting your species and planning for the natural variations in size and appearance, you should realize that wide plank flooring comes with some special challenges that will affect how you mill and install it. We'll take a closer look at those steps in our next post.