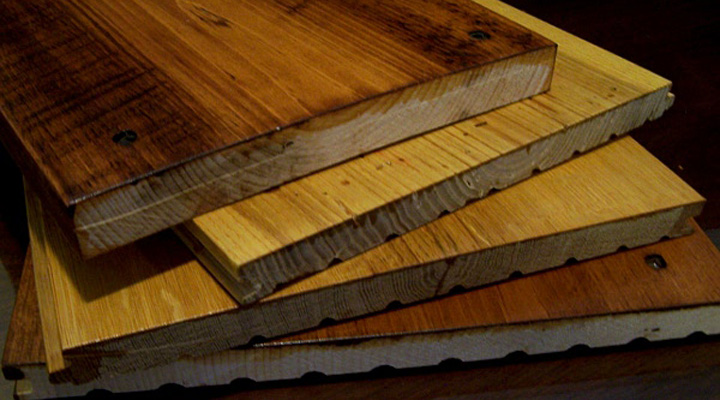 Once you've determined your wide plank lumber species and size, it's time to prepare those floor boards for installation. While these steps are similar to those you'd go through with any lumber, greater widths require extra care and consideration.
Special Considerations for Milling Wide Plank Boards
When you understand a little bit about wood movement, you'll realize that the wider the plank, the more significant the movement will be. Add to that the fact that a wide plank often represents a cross-section of a tree, across the full diameter of the tree trunk. The result is flat-sawn boards that include two highly stable edges with quarter and rift-sawn grain, but with highly unstable center areas. As moisture levels change, the quartersawn edges will naturally expand and contract across the entire thickness of the board. At the same time, the pith in the center of the board will expand and contract across the width of each plank; the result is a central area acting as a hinge, with the stable outer areas cupping around it. While you can aim to get as much quartersawn grain as possible, you cannot entirely avoid including pith without sacrificing width.
Encouraging Stability in Wide Plank Boards
The key to optimal stability for wide planks is a combination of careful drying and slow, steady milling and re-milling to provide as much acclimatization as possible. While some flooring boards can be effectively joined with ship lap, tongue and groove joinery is really the only option to use with wide planks; the groove of one board holds the tongue of the adjacent board, preventing it from lifting and causing the floor to become uneven. By slightly modifying joints, some movement can be allowed, while all floor boards remain on the same plane. By combining quality boards with careful drying and sawing, you can successfully achieve a wide-plank floor that will stand the test of time. However, many might argue that installing that floor is the trickiest part of all.
Preparing for Installation of a Wide Plank Floor
Like any wood deck or floor, wide plank flooring needs to be installed with the entire year in view. To prepare for installation, all boards require a proper acclimatization period, during which wide planks are stickered and allowed to come into equilibrium with the room in which they'll be installed; this need is especially significant for wide planks. (Feel free to ask your supplier for advice on the amount of time your chosen species will need in your particular environment.) You also need to consider your sub floor, when it comes to fastening techniques and moisture control.
In Part 3, we'll continue to explore installation techniques and follow up with some tips about moisture control.