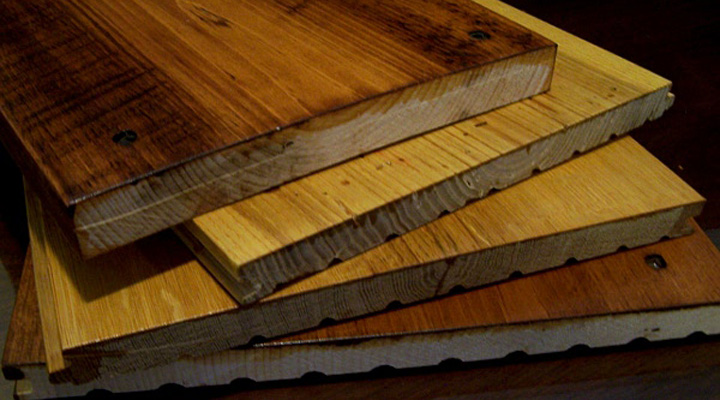 Don't let wide plank flooring's current popularity lead you to believe that it's easy to achieve. Choosing, sourcing, and preparing wide plank lumber for installation is the easy part; the installation itself is pivotal. Because every step along the way to achieving a wide plank flooring is more intensive than for other wood flooring options, customers need to realize that such attention to detail and added time will be reflected in the pricing. They also need to realize their options and the risks associated with each.
Tongue and Groove
The joint of a tongue and groove installation allows for movement across the width, but only if you leave an expansion gap between boards. If you're installing the floor in the more humid summer months, the wood will be swollen to eliminate gaps; if you're installing it any other time of year, you will need to include gaps to allow for movement during the more humid season. (Be sure to inform your customer that the gap will close and open throughout the year, as moisture levels shift.) Most patterns for tongue and groove joints allow for the plank to be toe-nailed to the sub floor, anchoring one side of the board and pushing the movement to the other.
Floating Floor
If the client prefers never to see gaps, you can offer the option of a floating floor. A floating floor doesn't eliminate wood movement; it simply expands and contracts as a single unit. With a floating floor, the expansion gap is essentially moved to the edges of the room, where it can be hidden with shoe molding. Since not all boards move at the same rate or in the same way, buckling or unevenness can still come into play; again, make sure your customers know the risks of whatever choices they make.
Humidity Control
Ideally, the room in which wide plank flooring is installed should also have its own humidity control system installed. While that solution is obviously on the expensive side, it may also be worthwhile, considering the investment of flooring, especially in a particularly large room. Humidity control systems are typically used in laboratories and other settings that require certain conditions to be maintained constantly. While the average home or business setting won't have quite as specific needs, such a system will keep the moisture level constant all year, eliminating movement of floor boards.
Is wide plank flooring worth all these special considerations? Many customers believe it is. When properly installed, a wide plank floor, especially in a sizeable room, can be quite stunning. By partnering with a quality-conscious supplier and employing the best installation practices, you can achieve the beauty of a wide plank floor that will stand the test of time.