Lumber drying is one of the most important factors in achieving high-quality lumber that will perform well during and after installation. In many ways, it's even more important than species or grade. Air drying is one drying method which we looked at in a previous article. Many people may not realize that even when lumber requires kiln drying, air drying is still part of the equation. Essentially, air drying helps prepare wood for the kilns; by allowing the wood to come into an equilibrium with the local climate first, it will typically respond better to kiln drying.
The "Secret" to Proper Kiln Drying
Really, the title above is a bit of a misnomer; the recipe for proper kiln drying is no secret. In fact, drying schedules according to species are publicly accessible. So why does case hardening ever happen, and why is properly dried lumber something to write home about? Well, the same reasoning would explain why people still get pulled over for speeding when speed limit signs are clearly posted and why many of us still flock to fast food establishments even though the associated health issues are well known. We live in a fast-paced society where doing things more quickly is often preferred over doing them correctly or thoroughly. At J. Gibson McIlvain, we refuse to skip steps in order to meet customer requests; we're more interested in retaining our commitment to quality than making a quick sale.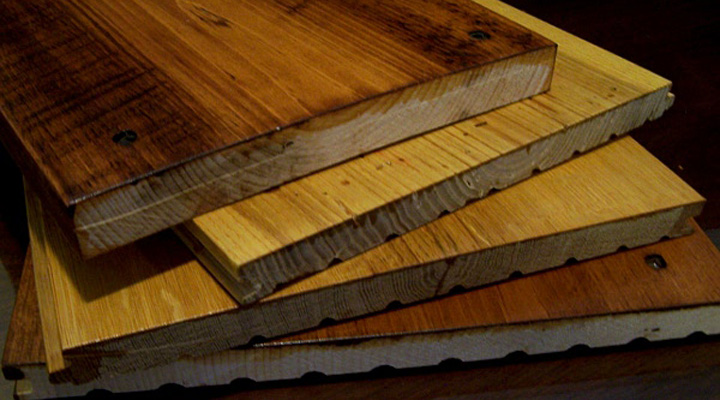 The Process of Kiln Drying
Once wood has been air dried long enough to acclimate to the surrounding environment, it can be moved to one of ten kilns, where it will be dried to the North American standard of between 6 and 8% moisture content. These kilns are heated with an environmentally friendly process by which offcuts and sawdust generated by our very own millworks heats the boiler that powers them. (Not only does this power method comply with our green approach, but it also turns out to be quite efficient.)
The Time Period for Kiln Drying
When it comes time for kiln drying, the main determining factor is density. The denser the wood, the longer the dry time. Especially dense species can require more than a month in the kiln; other species can require only a few weeks.
In addition to variation in dry time, some species require particular types of handling. Spanish Cedar, for instance, is highly resinous. As a result, it weeps whenever it is cut, and the sticky resin stains the wood. Some of the only North American kilns that can get hot enough to set the sap and prevent weeping in Spanish Cedar are found in the J. Gibson McIlvain lumber yard. Because higher temperatures bring greater chances of case hardening, the extended heat up and cool down time required extend the timeframe required for properly kiln drying Spanish Cedar.