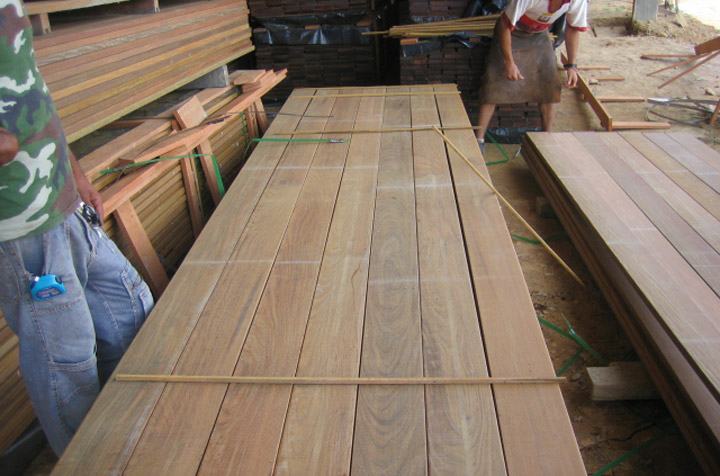 So far in our series, we've discussed the journey your decking boards take from the forest to the job site, as well as some ways to prepare the boards upon arrival (see Parts 1, 2, 3 & 4). Any discussion of this topic would be incomplete without covering one of the most basic preparation and maintenance steps: cleaning. Even if you've rested your boards for weeks under a protective covering and carefully sanded down all the rough spots, your boards aren't going to look good unless those unsightly mineral deposits, water stains, and patches of caked-on mud are cleaned off properly. So let's take a closer look at what cleaning your decking boards will entail.
Use a Quality Deck Cleaning Product on Your Decking Boards
You'll be able to find all sorts of different wood cleaning products on the market. The kind you want to purchase for this job is one that will be a mild abrasive cleaner designed to scour off the grime that's embedded into your boards. Not even a pressure washer will prove to be effective without applying this type of cleaner.
Follow the Cleaner With a Brightener
Once the boards look nice and clean, it's time to apply your brightener. These types of products contain an acid that can lighten up your decking boards. They also work to protect the boards from the greying effects of the sun's UV rays.
You want to try to avoid brightener products that only use bleach. Though they're among the least expensive, you don't want to damage the wood. These products are unnecessarily harsh and can also damage the surrounding soil and plants that are near your deck. These bleach-based brighteners can also create complications for future stains or oils you may want to apply to your decking boards. So instead of a bleach brightener, choose a costlier but better alternative product that contains less harsh acids. A citric acid-based product should be a safe choice.
If You Prefer a Weathered Look, You Can Skip the Brightener
Some deck owners choose to forgo the application of a brightener altogether. They just install their deck, sand it, and then clean it before going straight to oiling it. To decide whether or not you should add a brightener, take a close look at your boards. Wait for a few days after you've given the entire deck a thorough cleaning. Leaving it alone for a while can help you get an idea of what it will look like as it is left in the sunlight. You may start to see a change in color. If you like what you see, you don't have to use a brightener. If you want it to look a bit brighter and more uniform in color, go ahead and apply the brightener. You may instead opt to save it for a future time when the boards start looking faded and could use a fresh look.
Many new deck owners fail to clean off their decks. If you leave this step out, don't be surprised if your deck looks discolored, dirty, and stained. If you want that "showroom floor" appearance, you're going to have to put in the extra work required to achieve it.